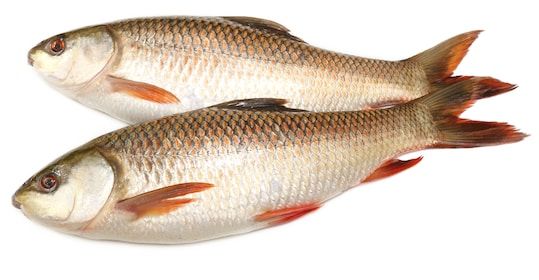 You might find it odd that people in Bengal, Assam and the coastal regions of India eat fish for almost all their meals, and you might even have made fun of them for loving fish so much. But the fact remains that fish is one of the healthiest foods you can depend on, especially the Rohu fish.
Rohu fish is as healthy as eating other fishes in the market like salmon or tuna. Orange fish is one rare variety of rohu fish. It is high in demand as a culture species in aquaculture. This is one of the most popular fish in Azamgarh and other parts of India. It is tasty enough for cooking and snacks.
Here are some of the health benefits of eating orange rohu fish.
• Vitamin C: - Rohu is a river fish which is considered to be a rich source of vitamin C, essential for the sustaining of good health. It keeps illnesses like cold and coughs away and prevents other diseases related to it.
• Rich protein source: - fish is one of the best sources of protein easily accessible. It is proved that sea fish has a superior content of protein. But the river fishes are quite handy to get affordable also. River fish like rohu and katla are more commonly available in the market. Hence, it is always a good idea to bank upon the fish protein as much as possible. Be it a child or an adult, this protein is useful for the good health of tissues.
• Brain booster: - Fish helps your brain develop and work well. Eating fish has numerous health benefits for the entire body, including the brain. You can have better memorizing and analyzing skills along with fewer cases of mood swings.
• Mineral source: - it is rich in minerals as well like iron, zinc, iodine, potassium, calcium, and selenium are just a few to name. The amount may vary from one to another variety. The fact is fish is a rich source of minerals required by the body.
• Cancer chaser: - it is one of the deadly diseases affecting people across the world. Antioxidants in fish are supposed to be helpful in combating cancer to a great extent. It could be river fish or sea fish, orange rohu fish or any other but the idea is to have more of it.
• Low fat: - Rohu fish is highly rich in protein but comparatively low in fat. When you are getting benefits without heaping up layers of fat then what to wait for? You know you have the ideal dish that is orange rohu fish that is heart friendly with Omega 3 fatty acid known for being heart friendly.
This fish helps
• Increase absorption rate,
• Boost immunity
• Reduce inflammatory
Get the premium quality of rohu fish from leading Orange Rohu Fish Suppliers online. There are many trustworthy fresh rohu fish suppliers Azamgarh. They make sure that top quality fish reaches you at an affordable price. They also use high-grade packaging material to preserve freshness and shelf life. Their well-equipped warehousing structure helps them store more and supply in bulk as well.